Inquiries can be diagnosed quickly by providing the support team access to your account via the Amazon Advertising Console.
This tutorial is written for granting access to our support team. If you want to manage multiple accounts by using one credential, instead of delegating permission to accounts@m19.com, you should delegate permission to your main account!
We need you to fill in a form with your account Id and wait for us to send you an email with further instructions. Here is how it works :
1) Go into your Amazon Advertising console
2) Click on the menu in the top left corner and select 'Access and settings'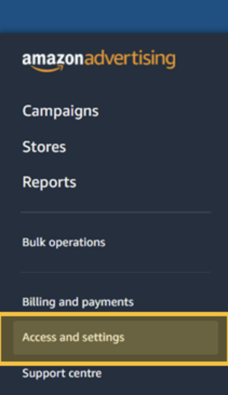 3) Your account Id is under your Account name, copy it!

4) Fill in the form below
5) Once we get your submission, we will send you a link by e-mail
6) Click and open the unique access request link sent by M19
7) Select 'Approve request' in the following pop-up window:

And there you are! Now our support team can better help you with your account!